MicroMégas
Photographs by Gilles Martin
Exhibition available for hire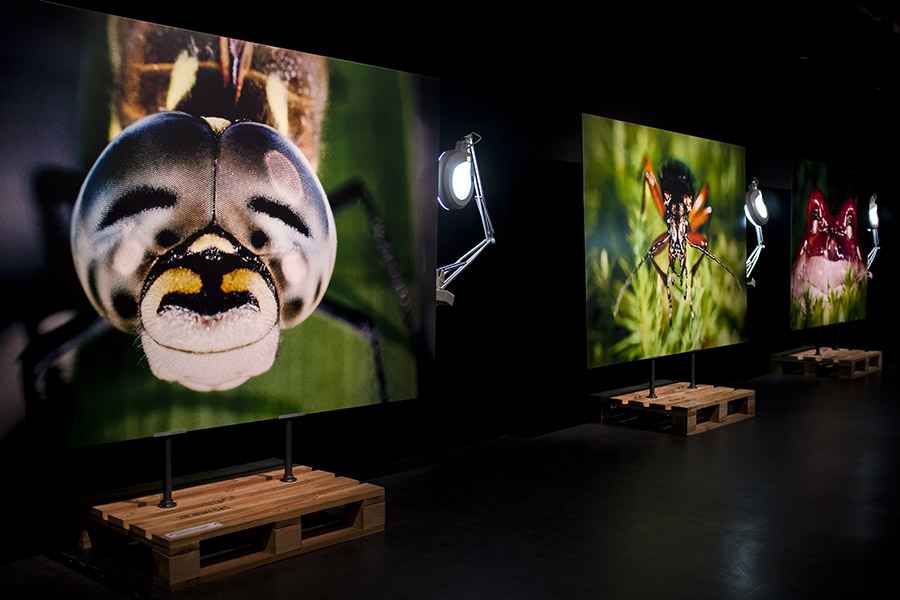 Professionals at your service…
Gilles Martin has over 30 years' experience in the field of producing, setting up, and hiring photographic exhibitions. His clients include the French Senate, the Museums of Natural History of Lille, Bordeaux, Tours, Nantes, and Bayonne, as well as the most prestigious international photography and nature festivals.
His network (graphic designers, editors, photo laboratories, and artisans) means that he can set up exhibitions for you on a turnkey basis.
Exhibition
The exhibition uses images to take us from one continent to another and into the extraordinarily varied world of small beings: insects, of course, as well as flowers and plants, snakes, lizards, chameleons, poison-dart frogs, micro-mammals, etc.
This æsthetic and educational exhibition is designed to present the infinitely small in large photographic prints whilst giving an idea of scale. That is what is behind the title "MicroMégas", a philosophical tale" (1752) in which Voltaire – drawing inspiration from "Gulliver" – takes a new approach to Blaise Pascal's theme of the two infinites: the Micro and the Mega.
Original scenography
Exhibition intended for an indoor presentation. The spectacular, educational exhibition offers highly original scenography, which enables spectators to draw immediate parallels between the Micro and the Mega. Each print displayed is self-supporting and comes fitted with a magnifying lamp. The magnifying lamp presents the photo caption and a visual of the subject photographed, to give the scale. Fitted with a jointed arm, the magnifying lamp can be raised and lowered to make it accessible to adults and children.
Description of the exhibition
1 presentation panel. Format 120 × 180 cm. 3 mm Dibond® mounting.
27 photographs. Format 120 × 180 cm. 3 mm Dibond® mounting.
1 triptych made up 2 panels. Format 1210 × 1945 cm + 1 panel 1210 × 2925 cm. 3 mm Dibond® mounting.
28 Big Eye magnifying lamps with captions.
self-supporting structures in untreated, unfinished wood and anthracite-grey lacquered tubes.
Tailor-made presentation
Based on the space you have available, the exhibition can be presented with 12, 20, or 28 photographs.
Book
The exhibition presents the best images from the book "La Macrophotographie", which can be sold at the event.
Information
Please do not hesitate to contact us. A pamphlet is available that sets out all the technical details for setting up and transport, as well as the rates for hiring the exhibition. 
Phone : +33 (0) 2 47 66 98 57 − Email : contact@gilles-martin.com